Laurie Solet Enea
Licensed Realtor®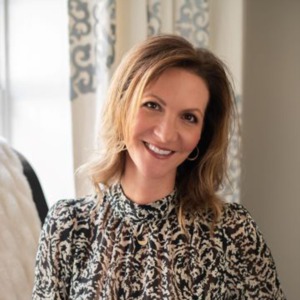 Laurie Solet Enea was born and raised in Chesterfield, MO, a proud graduate of Nerinx Hall. Laurie received her Bachelor of Science in Marketing from Southwest Missouri State University, studying Business Management and Creative Advertising.
Her impressive journey toward the Real Estate field brings a wealth of experience and knowledge that gives her an incomparable edge in the industry.
After college, Laurie packed up and drove to Los Angeles where she was quickly hired by Savoy Pictures as a Marketing Financial Analyst. When her CFO at Savoy left to join the team at Dreamworks – considered a start-up at that point – he felt Laurie was essential to their success, and brought her with him. Laurie's position was integral in launching the initial Finance and Accounting Departments at what would become a powerhouse animation studio.
Laurie felt pulled towards advertising and, again, a chance call from her former President of Marketing at Savoy Pictures led her down her next career opportunity. She was delighted to join Seiniger Advertising in Beverly Hills as Manager of Theatrical Accounts, overseeing the creation and production of film advertising campaigns, and ultimately ending her time there having been promoted several times to the ending position of Senior Account Executive.
Laurie's booming career in advertising then led her to London where she worked for Universal Pictures as Director of Marketing. Ultimately, she was given the option of staying in London, heading back to Hollywood or going home to St. Louis. Her heart pulled her back to the Midwest, where she opened Laurie Solet Boutique. Featured regularly in People Magazine, Lucky Magazine, and DailyCandy.com, Laurie Solet Boutique was voted both "Best Boutique"  in St. Louis Magazine and Alive Magazine, and "Best Website" in The Riverfront Times. 
As a business owner, Laurie created a private label and opened a second location all while navigating a market recession, successfully managing both for 15 years until she sold to focus on family for a bit.
Laurie and her husband, Dragos, and their two daughters live in Wildwood. Laurie believes there is no greater inspiration than family and travel, and the Enea's explore the world at any opportunity they find.  
Laurie's entrepreneurial spirit endured as she raised Lena (8) and Lilly (5) and she knew she had a "third act" to offer to real estate with her wealth of business and marketing experience. Laurie believes that with Kathy Helbig and the Experience Realty Partners she will be able to offer her clients the best possible real estate experience.